How to Engage or Re-engage Sponsors Virtually as Told by an Event Marketer.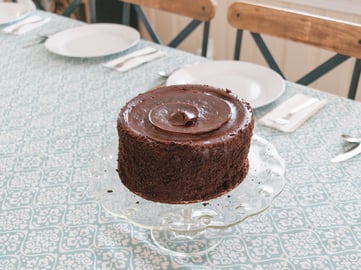 My grandmother makes a chocolate layered cake that's to die for - the kind that's requested for every family get together for its consistency and apparent inability to ever turn out too dry or too sweet. It's a recipe that my great grandmother perfected for years in her humble south Georgia kitchen. Now her daughter, my grandmother, follows the same practices and nails it every family celebration and holiday, and I get to enjoy the delicious rewards of both of their hard work!
Since March 2020, the events industry has experienced a drastic decline in event sponsorship and exhibitions. For me, seeing the number of event professionals who have drastically lowered their projections for sponsor investment is similar to my grandmother watching me try to make her famous chocolate layered cake. I realize this sounds ridiculous, but let me explain. I know my grandmother well. I can assure you she wouldn't just leave me in the dark. She would share every single one of her secrets and next thing you know, I would be the one winning that next county bake-off, and that's exactly what she would want.
Today, I'm inviting you into my [metaphorical] kitchen. I'm sharing all the "secrets" I have to help event professionals all over to successfully and profitably engage sponsors in virtual events. It is absolutely possible to engage sponsors at the same level, or heck, even higher levels in virtual and online experiences! Today you're going to learn how. Let's get started.
THE BAD NEWS: It's a fact, many brands are not finding value in virtual events and exhibits - understandably so, since the results most often are shockingly low.
THE GOOD NEWS: There is a way to rethink sponsorship for virtual events and conferences to re-engage your sponsors and provide them with the ROI they desire.
So, what can you do to engage sponsors for your virtual programs? Here are the top 5 things that will help you solve for this problem no matter what industry you find yourself in, or what type of program you are putting on.
Pause. Think like your sponsors. Consider what questions they're asking, or better yet, ask them

what they're facing right now. Find out what they value in today's climate. While some budgets may be frozen or cut, your sponsors still have goals to meet as long as they have a job! Find out what their goals are, then brainstorm with them to find creative ways to help them solve their problems. Treat sponsor relationships as you would a client - with genuine care and concern.

Innovate. Be willing to consider all new sponsor packages. You know that sponsorship prospectus you've been duplicating year after year with the occasional update or modification? It's time you retire it, or at the very least, file it away for this time. To stay relevant and meet consumer expectations, we must always be willing to leave behind the old for the new when the time comes. If something is not working, instead of throwing in the towel on the goal, throw away the tactic or the means of achieving the goal and find another way to meet the goal now. Yes, this requires a willingness to change and an extra dose of perseverance, but it's the only way forward. Think outside of the realm of possibilities - there is a way.
Agility. Be the first.

The reality is that many organizations will not make it through this global pandemic. Now more than ever, those who refuse to move ahead will quickly fall behind. Businessman and New York Times best-selling author Robert T. Kiyosaki said it first even before a global pandemic,

"Innovation is key. Only those who have the agility to change with the market and innovate quickly will survive." As innovative as you are, you must also become agile and, as often as possible, be the first to innovate.



Now, I can already hear you. "Yes, but what are the practical steps I can do?" I assure you these are as practical as practical gets. Please do not skip them.




Connect sponsors with your attendees.

All your exhibitors and sponsors want is to connect with your audience, right? The more direct the connection, the greater the value is for sponsors which should be reflected in your pricing tiers. Maybe you're offering sponsors time during a commercial break for your event, or you provide the backend for attendees to book time with exhibitors via video conferencing during your virtual event; whatever the solution, keep the goal of helping both your attendees and sponsors at the center and provide a way to connect sponsors with attendees.

Show results.

Data is like fuel for marketers and sellers. Decision makers want to make educated decisions on how to allocate their spend. Show proof of the impact that your offer will have to make the decision making process for your sponsors quick and easy! This pays off for your potential sponsors and for you in the end since your sponsors have a better idea of what to expect, and are therefore happier customers in the end. If your offer will not produce meaningful results, you wouldn't want to try to sell it anyways, right? At least I hope not. Showing historical and projected results pays off for you and for your potential sponsors. Pro tip: read up on how storytelling with data and data visualization to ensure that your data is presented in a digestible, compelling way.

This article from Northeastern University provides well-researched insights.
When you implement these steps, track your results and let us know what comes! If you have any questions, please feel free to reach out to me. info@redstory.co
---
If you found this content helpful, subscribe to our blog below for more!